After the "Top Secret" photos earlier in the week, we can now reveal the following Microserver Module – a PS1810-8G Gigabit Ethernet switch. Basically it is the normal HP 1810-8G switch (Product code J9449A) stuffed into a new Microserver-shaped case.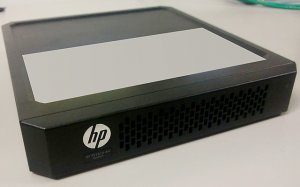 Looks pretty good, and the specifications of the 1810-8G are really good. 802.3ad Link Aggregation, Vlans, all the really handy stuff you want as a network admin. I think this will be a game changer in the small branch offices.
Why? Because it will make it easy to run a couple of Microservers, team the Network cards on each into the switch, and uplink them into the workgroup switch. It also leverages Power over Ethernet (PoE) to power the switch on port 1. If you have a larger workgroup switch that already has PoE capability which is often used to provide 48VDC to devices via the ethernet cable in order to power them without plugpacks, you can use that to power the switch and reduce cabling clutter.
PoE is mature technology and is used to power devices like IP Phones and WiFi Access Points. I am seeing more and more affordable PoE switches in the enterprise as IP Phones are making their mark and business sees the benefit of not having powerpacks everywhere.
As you can see the module is shaped to the design of the Microserver and is stackable. Very neat and tidy.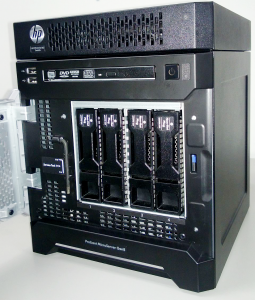 And finally here is the HP Sheet on these. Click to enlarge it!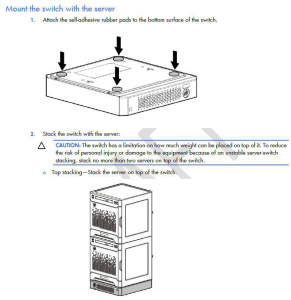 I hope you can all see where this is going. After my previous post regarding the External Storage Module being dropped, then being told that a backup module exists, it starts becoming pretty clear that the Microserver range will be used as a base to external modules. I think it is a really cool system, keeping the base unit small and cheap to manufacture, while giving customers the opportunity to expand their systems as required.