Well this is rather strange, but perusing the new Repair/Replace videos for the Microserver G8, I noticed the 'Expansion board' video. Here's a couple of screenshots: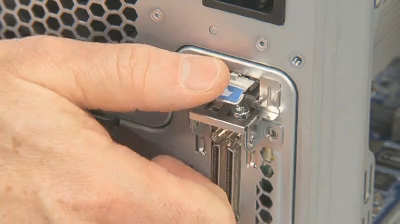 Now if you look carefully, on the top screenshot you can see 'ATTO' on the bracket, and just below that I can make out 'Ultra 320'. The connectors do indeed appear to be Ultra320 SCSI External connectors.
With a bit of sleuthing, the card in question appears to be the HP StorageWorks U320e SCSI Host Bus Adapter, part number AH627A. Here's a better picture:
A dual channel Ultra 320 SCSI card? Talk about old technology, I would have thought a SAS Host bus Adapter would have been more likely. It could have just been a low-profile expansion/HBA card that the video team had lying around, or could it have been a way of attaching an external storage array?
We await the launch of the new model next week for all the official details.